Griswold
 still comparing herself to Fauci amid new questions about top doc's credibility
For Immediate Release
June 28, 2021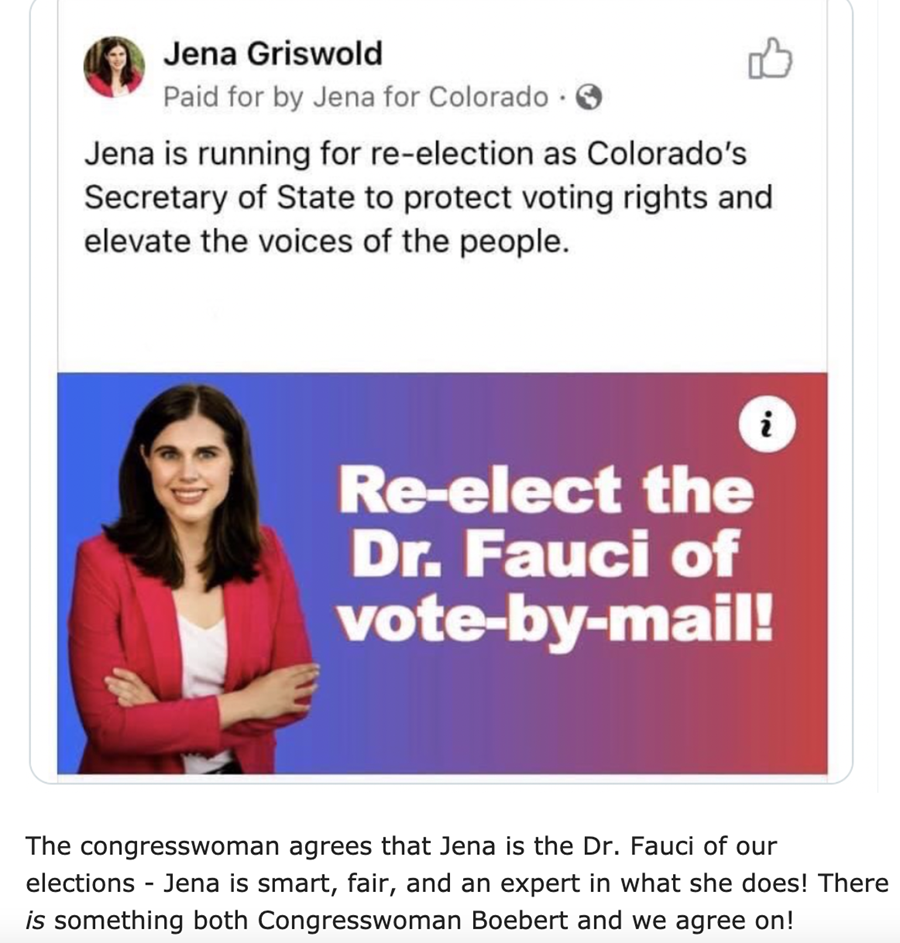 The association isn't as flattering as Griswold thinks.
In recent days Dr. Fauci has been accused of making misleading statements to Congress.
The dispute concerns whether Fauci knew in June of 2020 why the Trump administration directed the National Institutes of Health (NIH) to cancel a grant connected to the Wuhan Institute of Virology.
"Why was it canceled?  It was canceled because the NIH was told to cancel it," Fauci informed committee members.  "I don't know the reason, but we were told to cancel it," he added.
According to a new book by two Washington Post reporters, Fauci knew precisely why the administration wanted the grant cancelled.
"With questions swirling about the origins of COVID-19—experts had determined that the virus was not man-made but could not rule out that it might have slipped out of a lab—the NIH had gone to the principal study investigator on April 19 and asked that payments be halted to the subcontractor in Wuhan until it had more answers.

A few days later, the relatively small grant had garnered new attention…On the afternoon of April 24, NIH director Francis Collins and Fauci received notice that Trump wanted to formally announce in a 5:00 p.m. press conference that the grant had been terminated."

Collins and Fauci told the White House and [the Department of Health and Human Services] that they were not sure the NIH actually had the authority to terminate a peer-reviewed grant in the middle of a budget cycle. The HHS general counsel told them to do it anyway and made clear it was a direct order from the president, implying that their jobs were on the line if they didn't comply. Fauci and Collins reluctantly agreed to cancel the grant."
After downplaying the possibility for much of last year Fauci has adjusted his rhetoric on the origin of COVID-19 in recent months, stating he still is open to the possibility it may have originated in a Wuhan laboratory.
For her part Griswold has also taken an increasingly partisan posture recently with her support for legislation that would undermine confidence in Colorado elections and directly benefit her political allies.
If you plan on covering Griswold's Fauci ads, please consider the following statement from Compass Colorado.
"Calling yourself the 'Dr. Fauci' of anything right now doesn't exactly inspire much confidence in one's honesty or transparency," said Compass Colorado Executive Director Kyle Kohli.
###