Colorado State Patrol forced to create separate key card category at Capitol to block Kagan from women's restroom
DENVER – Responses to a recent Colorado Open Records Request (CORA) filed by Compass Colorado with the Colorado State Patrol following allegations Democratic state Senator Daniel Kagan repeatedly and inappropriately used a women's restroom, refutes his version of the facts in the case.
On March 19th, Kagan described his use of the Senate women's restroom to Jesse Paul of the Denver Post as "one time" and "the kind of embarrassing mistake you don't make twice." Sen. Kagan also told Bente Birkeland of KUNC, "I accidentally used the wrong one," he said. "It was embarrassing."
The bathroom in question, door number 260 in the Senate, can be accessed by both keycard and by a code typed into a keypad next to the door. Although Kagan's keycard records show his card had never been used to access the door, the keypad code was a generic code that opened many of the Senate doors that all Senators have.
A review of records suggests that not only was it a problem the Senate non-partisan staff had been dealing with, but that the frequent nature of the complaints required a change in the door code to the restroom and the creation of a separate keycard category only for Senator Kagan to keep him out of the women's restroom.
"We confirmed with the Colorado State Patrol that Kagan was the only member that has had his access to the bathroom revoked," said Kelly Maher, executive director, Compass Colorado. "The fact that Colorado State Patrol had to create a specific keycard category and change the door code to the bathroom because of Senator Kagan certainly refutes his recollection that this was a one-time, embarrassing incident."
Emails and phone calls a month before these allegations became public between Effie Ameen, the non-partisan state Senate Secretary, and the Colorado State Patrol and obtained by Compass Colorado, show the lengths to which the state Senate and Colorado State Patrol went to stop Kagan's inappropriate behavior. Heather White, Communication Supervisor, Colorado State Patrol, wrote in an email:
"I also removed the Senate Restroom door (#260) from the door group "Senate Offices and Restrooms Only". Effie [Senate non-partisan staff] advised this is a women's restroom and Senator Daniel Kagan has continued to use it even though he's been advised this practice needs to stop. [Emphasis added]

So, Senator Kagan now has access to these two door groups which has eliminated his access to the Women's Senate Restroom."
In February 2018, prior to the issue becoming public, Ameen contacted White to see if the door code could be changed and if there was a way to restrict the keycard of a single cardholder. In a phone call between the two, Ameen lays out her concerns:
Ameen: Yeah, so here's the problem I'm having and you can maybe help me figure out the best way to do this. And, again, I don't, I don't know if this will prevent anything. But, we have a person who works here, a male, that has been frequently accessing the bathroom, and so . . . yeah, it's so awkward . . . and so that's why I wanted to change the code, because I know the code we have on there is sort of our generic one that we use like for everything so it's not shocking that people would know it but ummm . . .

White: So what's his name?

Ameen: It's one of my Senators. It's Senator . . . Senator Kagan.

White: That's what? K E A

Ameen: K A G A N
By the conclusion of the conversation, the two ultimately found a way to restrict Kagan's access to the door and the generic code was changed. (Full audio of call available upon request)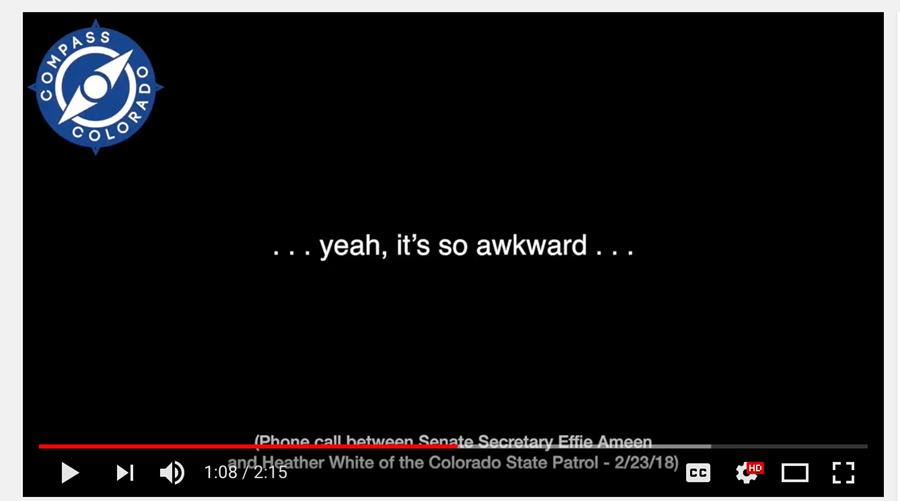 This scandal came to light after Kagan took a point of personal privilege to give a graphic speech in which he read legal definitions of sexual intrusion. In addition to the graphic nature of his comments making many in the state Senate visibly uncomfortable, his colleagues believed Kagan's statements to be the height of hypocrisy given his propensity to breach the women's bathroom.
The speech prompted Senator Beth Humenik-Martinez to file a workplace sexual harassment complaint against Kagan for his frequent use of the state Senate women's bathroom. Humenik also learned that other female staffers felt uncomfortable with Kagan's use of the women's bathroom. Following Humenik's complaint, state Sen. Owen Hill also revealed that he stopped allowing his young daughters to use that restroom after witnessing Kagan leaving the women's bathroom.
Compass Colorado filed an open records request with Colorado State Patrol, asking for records pertaining to Kagan's access of the bathroom door and any correspondence about his access.
About Compass Colorado
Compass Colorado is a non-profit organization committed to educating Coloradans on critical national and state fiscal and economic issues while simultaneously advocating for reasonable regulation, free-market policies, economic security and policies that improve the lives of Coloradans.